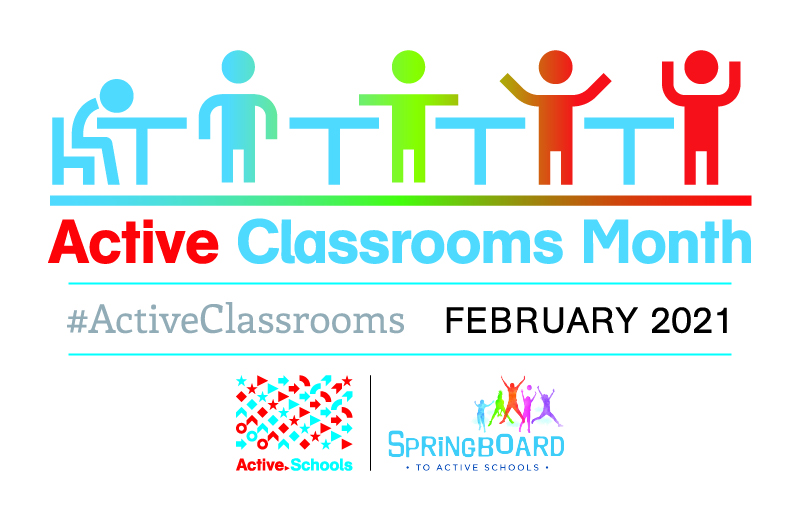 During February, teachers and caregivers across the country can participate in Active Classrooms Month by showcasing ways they integrate physical activity into learning and highlighting the positive impact movement has on young people! Special activities like webinars and live physical activity boosts during the month are intended to help all teachers and caregivers experiment and build their confidence in adding more movement into the classroom.
Join in the fun! Engage with us on social media (@Springboard2AS and @ActiveSchoolsUS) and follow #ActiveClassrooms for the latest – we encourage you to add your ideas and experiences to the conversation!
For all the details on Active Classrooms Month, including resources, teacher stories, and a $50 gift certificate raffle, visit the official campaign page: www.activeschoolsus.org/campaigns/

WEEK 1 (Feb 1 – 7)
*Click on the caption of each image below to either view the recording or join/register for an upcoming event.
WEEK 2 (Feb 8 – 14)
WEEK 3 (Feb 15 – 21)
WEEK 4 (Feb 22 – 28)
STORIES
Time, Patience, and Persistence: Making Physical Activity a Part of Your School Culture by Angela Stark, PE/Health teacher
Building a Legacy Through Technology and Movement by Audrey Williams, Classroom teacher/Technology Integration Specialist
Exceptional Students Need Exceptional Physical Activity by Yolanda Gallman, former Special Education teacher
Filling Our Buckets: A Reflection on Energizing the Body and Mind in COVID Times by Eva Gabel Sippola, Parent of a 2nd grader
For more stories from the field, explore Springboard to Active Schools' Online Platform: Integrate Classroom Physical Activity in Schools. Have a story or classroom physical activity idea or resource to share? We'd love to hear from you – submit a story here.
—
The month may be over, but Active Schools and Springboard to Active Schools are here to help you all year round with resources and trainings. It only takes a minute to stay connected: