Every week, we shine a light on a Springboard to Active Schools trainer who is making a difference in their community and state. These blogs highlight trainings that the trainers have conducted on implementing a Comprehensive School Physical Activity Program (CSPAP), training insights and tips, and fun facts.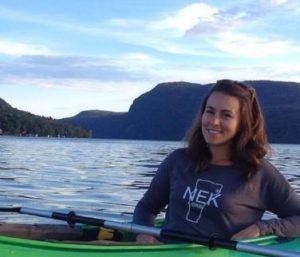 We met with Jen Woolard, the School Chronic Disease Prevention Specialist at the Vermont Department of Health, to learn more about her training experience.
Share a brief overview of one of your Springboard to CSPAP Implementation trainings.

What: CSPAP with a focus on classroom physical activity, recess, wellness policies, and accessing and utilizing data.
Who: Health and PE teachers, school nurses, undergraduate students.
Where: 2017 SHAPE Vermont Conference.

Who were the key partners you worked with to make this training happen?

I worked with SHAPE Vermont's Executive Director and PYFP trainer, State Agency of Education staff, and the Health Surveillance team at the Vermont Department of Health.

What superpower did each partner bring to the table?

For SHAPE Vermont and the Agency of Education staff, their superpower was enhanced vision. They have the ability to see the bigger picture and hone in on ways to bring things together.  The Health Surveillance Team's superpower was super accuracy as it relates to data collection and analysis.

Did you learn anything new about your partners through this process? If so, what did you learn?

We all have something to bring to the table – our own skills, ability to make things happen, and relationships with other partners. What makes these partnerships great is the ability to utilize resources together. What I have learned is that we need to utilize the assets and the "superpowers" that we all have to make that bigger impact more achievable.

What are three words to describe your audience before the training began?

Committed, passionate, and eager to learn more.

What are three words to describe your audience at the conclusion of the training?

Energized, empowered, and synergetic.

What is one way you got the participants to be physically active?

I love the saying, "We don't stop playing because we grow old, we grow old because we stop playing" (George Bernard Shaw). Being playful is so important to integrating physical activity into a training. I like to include physical activity breaks at the beginning, middle, and end of the trainings. I think the icebreaker provides the best opportunity to get people up and moving and get all the awkwardness out of the way, if there is any.

What part of the training are you most proud of?

My ability to energize and spark motivation in participants. I also like that participants are able to bring different elements of the training back to their school and implement some or all of them. If I get a lot of emails and follow up questions after a training, it means I did a good job and that people are interested in or are applying  things they learned at the training.

What part of the training was the most challenging?

Trying to connect all the dots between the school components – Whole School, Whole Community, Whole Child (WSCC), school wellness policies, national standards, improvement plans. Schools are inundated with new models, frameworks, and standards. It's important to try and find a way to make them all relevant and demonstrate how interconnected they are, but it's challenging. Plus, every school is in a different stage of this work with varying levels of capacity or support from administrators and staff. Ideally, I want to help staff streamline systems and efforts to reduce the burden on schools.

What is one thing that surprised you at your training?

I had a mix of school staff represented at the training – physical educators, school nurses, state partners, and even students. The variation in viewpoints was profound and made for such a rich discussion. When you have different school staff represented, it offers such a great opportunity to share different perspectives. The conversations were so beneficial that I adjusted the training to accommodate more discussion. It is important to be flexible in your trainings to meet the needs of the participants.